​
Color:white + green / white + brown
Name : Vegetable Tools Slicer Set
Material : ABS and Stainless Steel
Size : 28 x 10 cm
Net Weight : about 404g
color : white + green / white + brown
type : 8 functions ( 3 mm Strip / 4 mm Strip / 5.5 mm Strip / 1 mm slice / 2 mm slice / 3 mm slice / Flower slice / Gunk )
Including : Cutting board x1 + Hand protector x 1 + Steel blades x 8 + Food storage box x 1
Style 2:
Color:white + green
Professional: Include 5 different blades! You can cut food into multi shapes you want effortlessly ! Bring a lot of fun to your home cooking!
Time Saving: Cut vegetable, fruit more quickly and averagely than kitchen knifes. Also easy for cleaning and storage.
Safe: Protective hat keep your fingers away from hurt by blades.
Healthy : Keep the freshness and nutrition in vegetable and fruit. Enjoy healthy food with your family or friends.
Durable : Made with strong ABS material which can last a long time.
Style 3:
Color:Red
Item Description
6 in 1 Mandoline vegetable Slcer Set
Designed for daily use, strong and durable
Features 5 different types of stainless steel blades for variety of slicing and cutting.Adjustable
Mandoline Slicer made it easier for you to cut different vegetable and fruit in the kitchen ,and they are all-in-one comes with a food container base for less of a mess on the kitchen counter.
Easy to clean under light rinse water
Color :red
Material:Stainless steel and plastic
All picture of goods are real stocks goods ,and bottlse are enough stocks
Packages Included
2 x Slicing inserts – 1.2mm , 2.2mm
2 x Julienne inserts – 2.5mm, 3.5mm
1 x Grate blade
1 x Grind grater
1 x peeler
1 xContainer
1 xSlicing Guard hand Protector
1 xSafe Storage Rack
Kindly note
Size may be 1-2 inch inaccuracy due to hand measure ,hope to have your understanding
Style 1:
Color:white + green / white + brown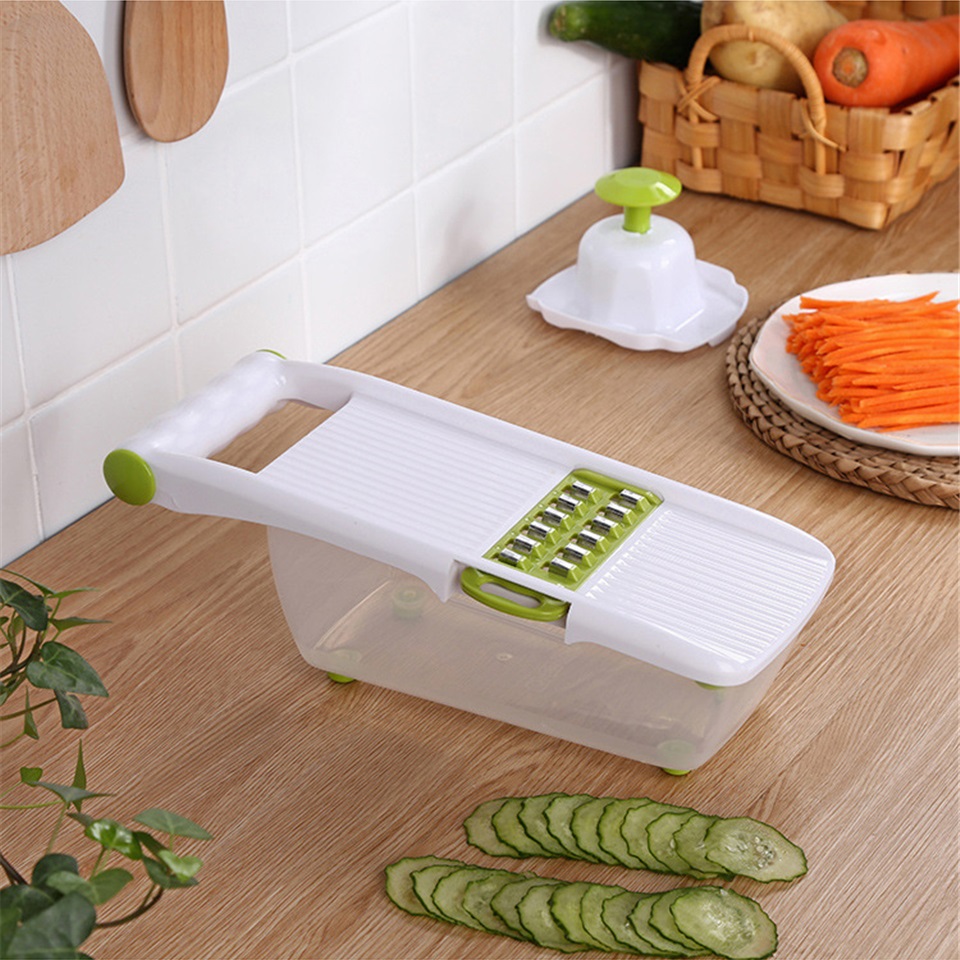 Style 2
Color:Color:white + green .
​
Style 3
Color:Red